Mabo and James Cook University: 1960s-1980s
Overview
Koiki became increasingly convinced that the Townsville Harbour Board was penalising him for his involvement in unions and other organisations. Although he was not a Communist himself, he was on friendly terms with several known Communists and was involved in causes and groups that had Communist members. Koiki believed the Harbour Board was deliberately giving him low-paying, unpleasant jobs because he was perceived to be a Communist, or at least because he was politically active. He took a job as a gardener at James Cook University, commencing work during the time when the library that would later bear his name was being constructed. It was during his time at the university, where he also worked as a research assistant, that he learned about the legal status of the lands he believed belonged to his family. During this time, Koiki and Bonita co-founded the Black Community School with Burnum Burnum (then known as Henry Plinth), Stephen Albert (from Broome), Margaret Reynolds and Evelyn Scott as the original council for the school. The aim of the school was to provide parent and community-supported education for Aboriginal, Torres Strait Islander and South Sea Islander children, as they believed these children were at a distinct disadvantage in mainstream schooling.
Timeline
1969-1985
Koiki was employed by the University College, commencing the journey which would change the course of his life. While working as the campus gardener (1969-1975), he was periodically employed as a research assistant (1972-1985). Koiki committed his free time on campus to extending his education and learning about "white man's views" of his people. He attended lectures, studied colonial literature about his homeland, and taught students about his culture and people.
Students would talk to Koiki and show interest in his gardening methods. He would show them how they could help, and while they worked together, he would share traditional stories.
Koiki later began studying a Diploma of Teaching at the campus, to assist with his work at the Black Community School, but had to set it aside to focus on the day-to-day operations of the School and developing his court case.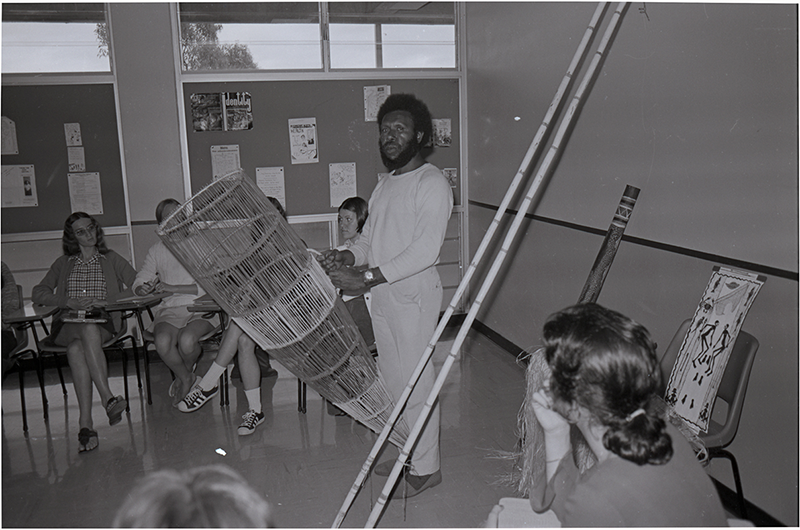 1973-1984
Koiki and Bonita co-founded the Townsville Black Community School, one of the first in Australia. Students learned about their own language and culture, away from the racism experienced in mainstream schooling.
Koiki served as the Black Community School's Director, and Bonita worked as a teacher's aide and craft teacher. In 1975, Koiki's passion and commitment to education was recognised when he was asked to join and serve as President on the National Aboriginal Education Committee. He served as President on the committee for three years.
1974
After discussions with Henry Reynolds and Noel Loos at JCU, Koiki learned that he does not have legal title to his land on Mer.  This happened during the time Mabo was working as a gardener at JCU. During a lunch with Reynolds and Loos, he mentioned his "land holding" on Mer and was informed by them "that the outer Torres Strait Islands were Crown Land … designated on a map … as 'Aboriginal Reserve.' " Loos recalls "how shocked Koiki was, and how determined that no-one would take his land away from him" (Loos & Mabo, 1993, p. 11).