Project management is an ideal tool to support strategic planning and achieve strategic goals and objectives.
Projects selected should support the strategic direction and be consistent with the organisation's existing or proposed goals and objectives.
Projects should always add value to the organisation's strategic direction.
Projects should be consistent with changes in direction in the organisation's external operating environment.
The use of project management can improve the strategy process and help reduce the gap between strategic planning and operations functions.
The Project Life Cycle is a core tool that guides the management of projects successfully from start to finish.
Every project goes through the Project Life Cycle, which is made up of four and/or five phases of the project management process.
Project Management Tip:
"Before pursuing a new service or product development, or improving an existing one, there must be a strategic alignment within the project and all elements driving the organisation."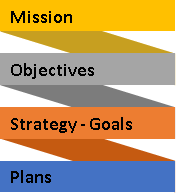 Reflect on how each of these three sub-elements, including 1. Developing a strategic vision and sense of mission, 2. Formulating, implementing, and evaluating Cross-functional decisions, and 3. Achieving its objectives, are important in understanding the challenge of strategic project management.