10

A Library of Exquisite Treasures

Trisha Fielding
In correspondence with AIMS about the sale of his private library, Sir Maurice Yonge remarked that he was pleased that the books would remain together, and on the North Queensland coast, not far away from Low Isles, the site of his first major research expedition. Sir Maurice highlighted notable volumes contained in the collection, including Beete Jukes' Voyage of HMS Fly, published in 1847, an author's copy of Saville-Kent's now-famous work on the Great Barrier Reef, published in 1893, and an album containing the original prints of Saville-Kent's photographs taken for that publication. He noted that Saville-Kent's work was one of the books he took with him to Low Isles in 1928.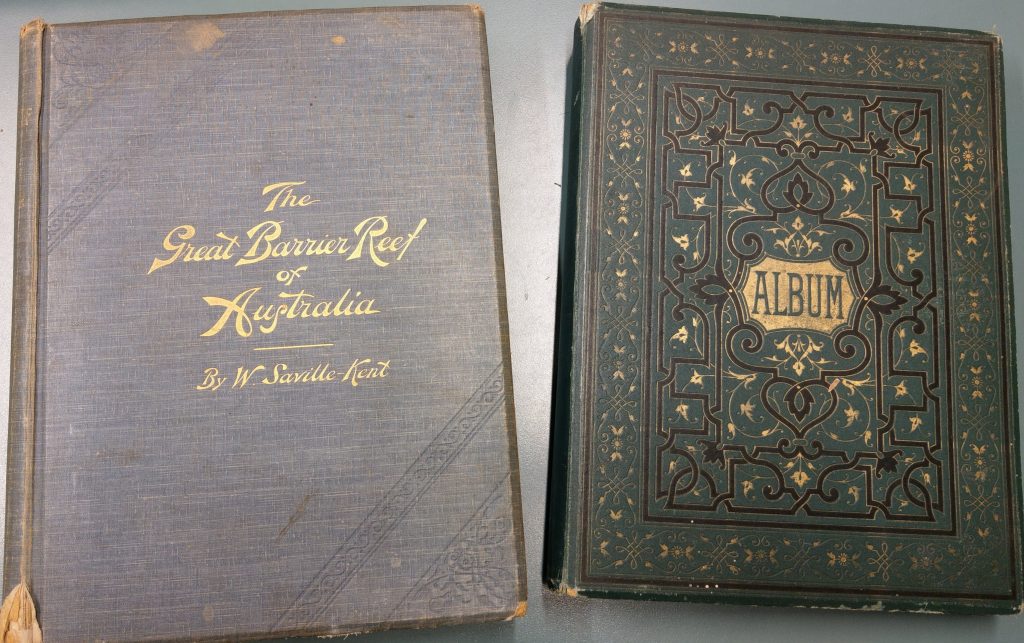 The acquisition of Sir Maurice Yonge's library proved to be something of an administrative challenge for the library staff at AIMS, who faced the enormous task of sorting and cataloguing the collection. Suzie Davies, now one of JCU Library's Special Collections volunteers, began working with the Sir Maurice Yonge Collection not long after it arrived at AIMS.  And although Suzie never met Sir Maurice Yonge, for eight years of her professional life, she read his books, letters, Christmas cards, and saw dozens of photos of his life. Suzie was surrounded by the professional life and times of Sir Maurice Yonge and can recall the impact that his library had on her personally, as well as professionally. Suzie said:
I got my first 'proper' professional job as a librarian in early 1983, when I went to work as a cataloguing librarian in the science library at the Australian Institute of Marine Science, Cape Ferguson, North Queensland.

AIMS was and still is a stunningly impressive scientific facility, set in a national park, on the shores of the Coral Sea. In 1983, the AIMS library was the largest marine science library in the Southern Hemisphere. To say that I was somewhat in awe of and intimidated by working there was an understatement. On my first day in my new job, I was shown around by Inara Bush, the AIMS Library Manager. Inara had just recently started her job at AIMS, after a long and extremely distinguished career in academic & research libraries. She was an exceptional librarian, and I was terrified!

On my first day, Inara walked me into an office filled with large cardboard boxes. She waved her arms across them all and said "Suzie, these boxes contain the personal scientific library of Sir Maurice Yonge, the most famous marine scientist in the world. And it's your job to catalogue them. Oh, by the way, some of them are hundreds of years old, so be careful." No pressure…[1]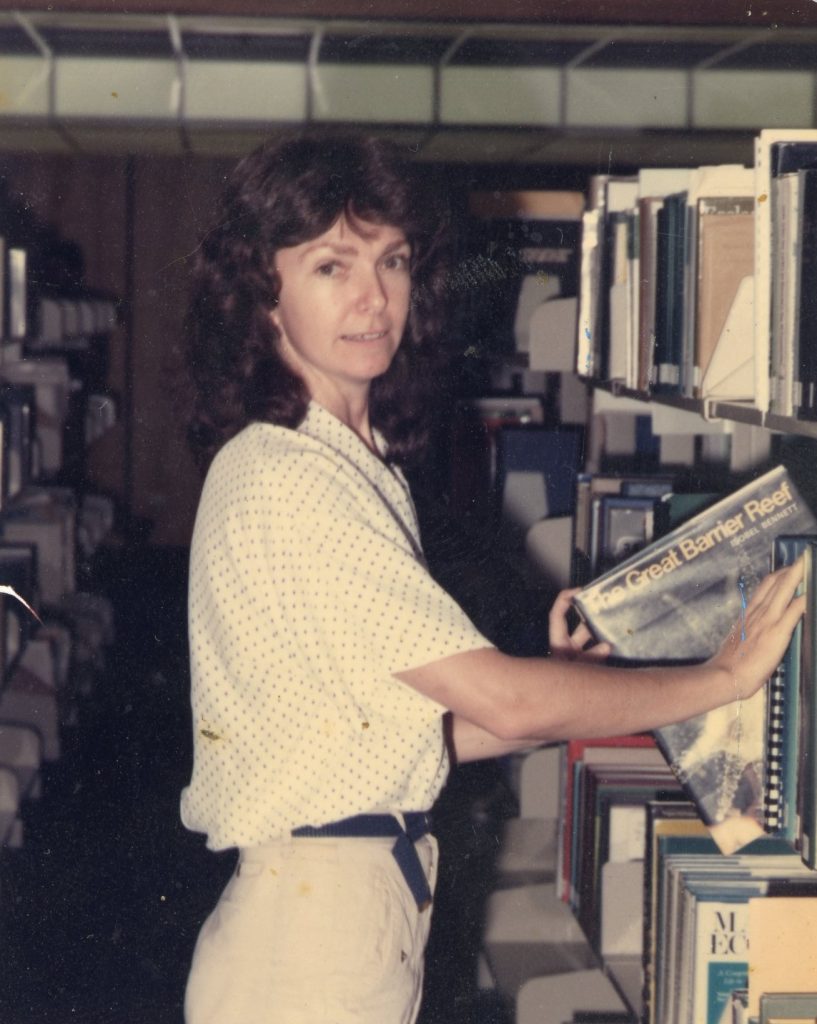 Over the next months, Inara and Suzie opened box after box of books, discovering treasure after treasure, and in the process, Suzie found herself getting to know Sir Maurice Yonge through the collection he had spent a lifetime building. She recalls:
I chipped away – cataloguing, cataloguing, cataloguing. We gradually began to know the collection, and to understand the depth and breadth of Sir Maurice's scientific interests. Even though Sir Maurice was a malacologist, we found books on every aspect of marine science and technology. We found maritime histories, anthologies of poetry of the sea, we found cookbooks on oysters. We even found Moby Dick!

We also found several hundred very old and rare books from the 1800s and 1700s – books filled with the most exquisite illustrations of marine life. Books written during the French Revolution, books written by history's greatest thinkers: Darwin, Solander, Banks, Rumphius, Sowerby – the list is vast.

As the years went by this beautiful collection gave up its secrets to Inara, who was then able to help the AIMS scientists use this amazing resource for their own scientific research. For me, a new librarian learning the ropes, this was a unique and wonderful experience – one that influences my life still. Inara taught me much over those years. I formed a bond of huge respect and regard for her knowledge, professionalism, patience, and for the excellent library service that she constantly gave the AIMS scientists.

Sir Maurice Yonge passed away in 1986. On hearing the news, I can remember feeling a sadness that this great man's huge life had ended. As I had worked my way through this outstanding record of a life so well lived, I had formed a warm, personal regard and respect for this giant of the marine science world. And by the end of my time working on Sir Maurice's scientific library, I felt that, even though I had not met him, maybe this wonderful collection had allowed me to know something about this quiet, humble man. And for that privilege, I will always be grateful.[2]
---