17

Great Barrier Reef Expedition Photo Albums (1928-1929)

Trisha Fielding
The Great Barrier Reef Expedition Photo Albums were generously donated to James Cook University Library's Special Collections by the Great Barrier Reef Marine Park Authority, in 2018. The 370 photos contained within the four small albums document six months of the expedition at Low Isles, and were mostly taken by the expedition's deputy leader, Frederick Russell, or his wife, Gweneth Russell MBE.
The members of the Great Barrier Reef Expedition party left England in May 1928 and photos at the beginning of the first album chart their sea voyage from England to Australia. They broke their journey at the ports of Naples, Colombo and Perth, before arriving in Brisbane. From there, the group travelled by train to Cairns, before being transferred to Low Isles at the end of July.
The 1928-1929 Great Barrier Reef Expedition made an outstanding contribution to coral science, and the research conducted under Yonge's leadership is still regarded as basic reference material. Importantly, the albums document the day-to-day activities of the members of the expedition and illustrate living conditions at the research station. There are images of station buildings, laboratories, equipment and scientific experiments, as well as photos of coral specimens and other marine life. The unspoiled natural environment of Low Isles and surrounding reefs, along with other locations throughout north Queensland, feature heavily.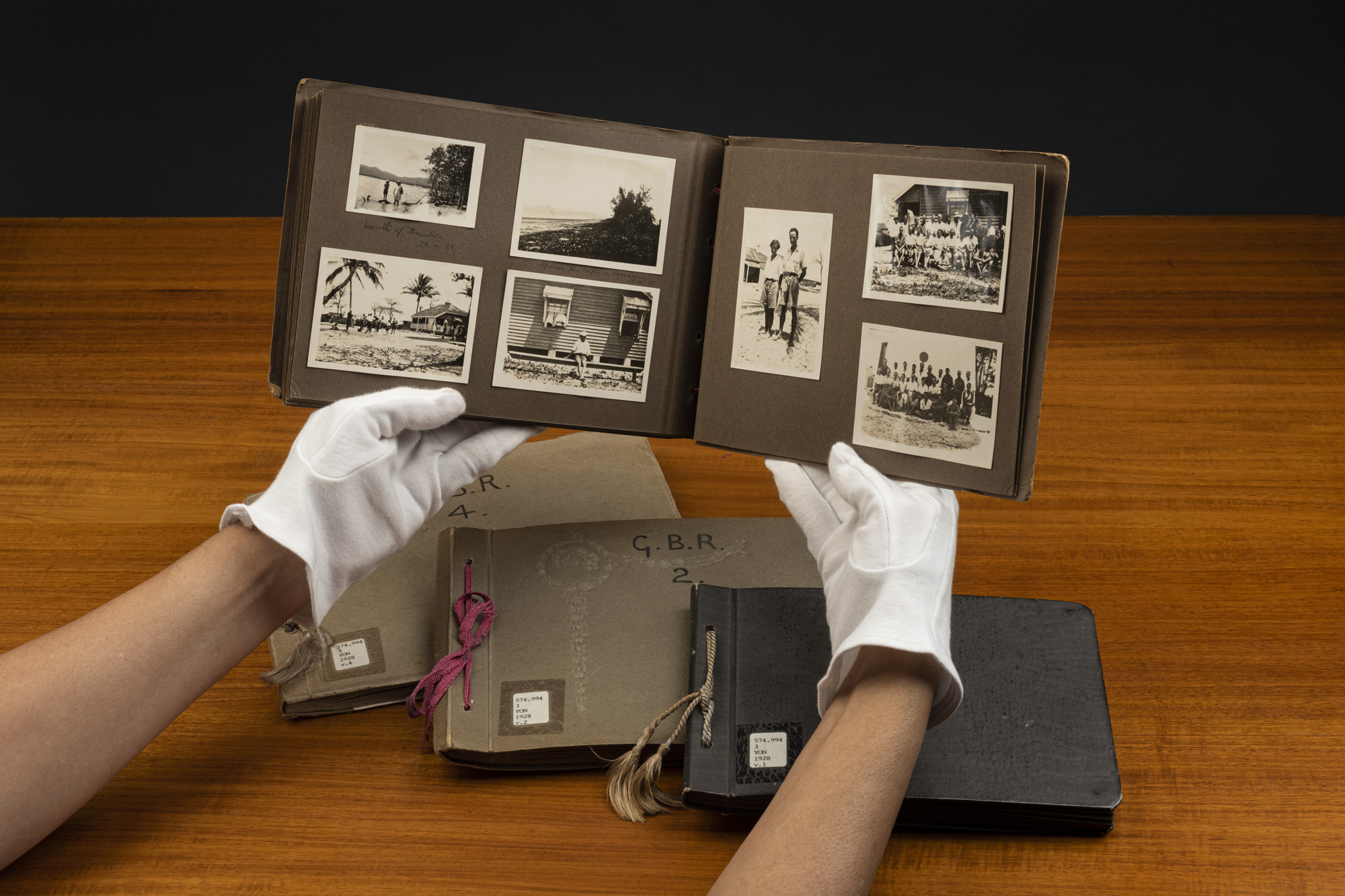 Each photo is captioned in Frederick Russell's handwriting and many photos are precisely dated. The inclusion of descriptive captions and dates adds significantly to the value of the albums as primary source records for researchers of early reef exploration. In December 1928, the Russells left Low Isles and began the long journey home. They continued to document their adventure, photographing every port of call along the way, including Townsville, Brisbane, Sydney, Adelaide, Ceylon (now Sri Lanka), and Pompeii.
The Great Barrier Reef Expedition Photo Albums were featured in the 2020 Exhibition:  50 Treasures – Celebrating 50 Years of James Cook University; and all four photograph albums can be viewed online in NQHeritage repository.