3.3 Presence in online learning
The three presences involved in online learning
Developing an online learning community where there is interaction between learners, with educators, and with content involves consideration of three presences. These three presences help to establish a sense of place and belonging that contribute to student engagement and educational experience.
Teaching Presence
Social Presence
Cognitive Presence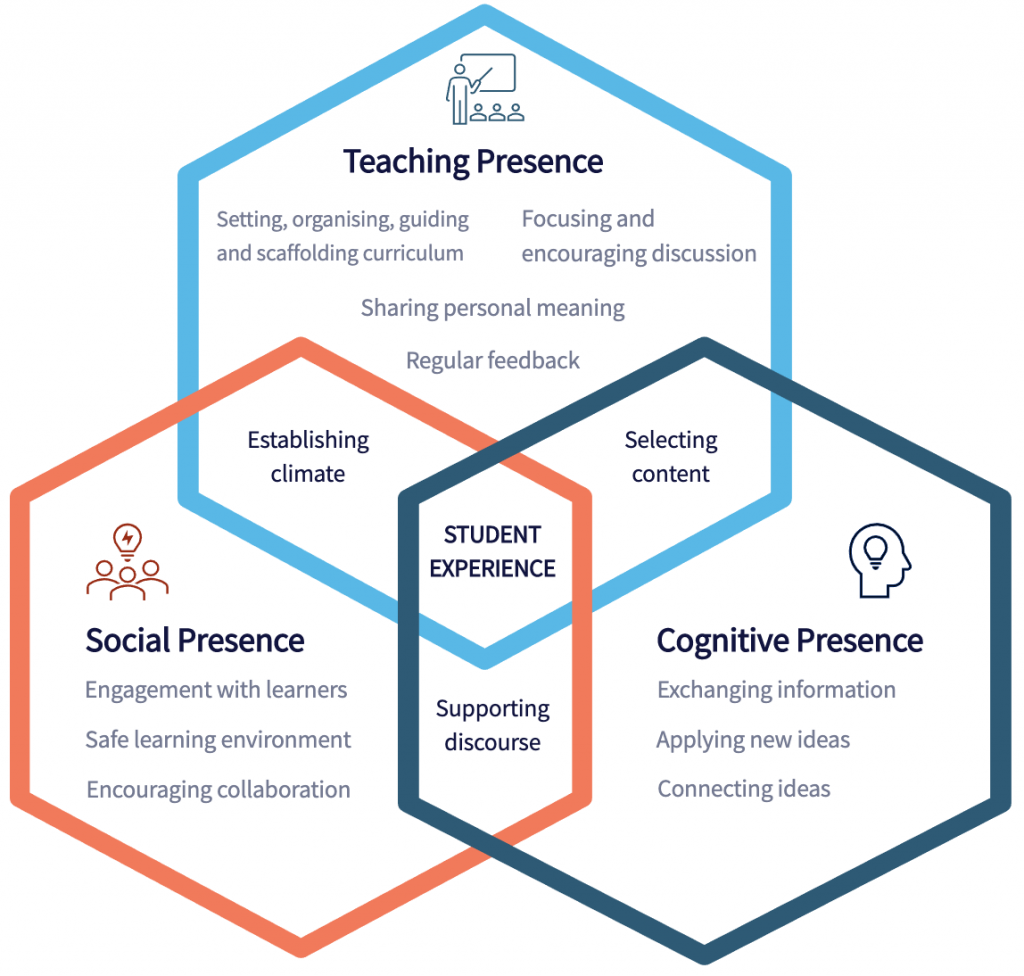 The presences are further explained:
Teaching Presence
'Teacher-presence' plays a vital role in building a sense of belonging to the learning community, it is crucial in helping students engage and stay engaged with their learning, and in improving student retention.
Teachers establish their presence through establishing their persona and taking on different roles such as a designer, instructor, and facilitator.
The ideal combination is of course to have both a strong teacher-presence and engaging course design.
Essentials of teacher presence: Communication, consistency, courtesy.
Social Presence
Students need the opportunity to project their social and emotional selves into the online learning environment. They need a safe place to express their ideas, opinions and beliefs, and engage in authentic conversations.
Teachers need to establish and nurture a safe online community and social presence by facilitating social opportunities such as purposeful conversations, online synchronous meeting spaces (e.g., video conferencing), online asynchronous meeting spaces (e.g., discussion forums), and discourse (synchronous and asynchronous) that encourages students to explore different perspectives and deeper reflective thinking.
Cognitive Presence
The cognitive presence allows students to construct and confirm meaning through their own individual learning processes and through interactions with peers, their teacher, and with content.
The instructional design and the 'triggering' event (i.e., a question that sparks their interest, curiosity and encourages them to explore) is important to consider.
A useful framework is the 5E's Instructional Framework.
Establishing teaching presence
In the video below, Dr. Mark Kassel (Robert Moores University,  Instructional Designer) discusses establishing teaching presence within a Community of Inquiry in an online learning environment.
Teaching presence in online learning, Fox Chapel Area School District
Online learning tips, interaction opportunities and presence
In this video, Emma Stirling and Deanna Horvath from La Trobe University share some tips about teaching online. They also discuss some strategies related to interaction and presence and align these with the NCSEHE Opportunity through Online Learning National Guidelines [PDF].
Online learning tips, Emma Sterling and Deanna Horvath, La Trobe University
Additional Resource